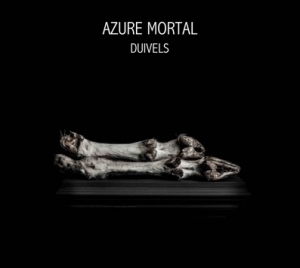 Azure Mortal "is producing avant-garde electronic audio-experiments and writing low frequency music for live performance, art installations, expos, films and choreography. Dark Ambient is maybe a good description for the Azure Mortal sound" – quite a statement, this introduction, but to the point for sure. The list of 'reasons' to write music for (performance, art installations, enfin, you can read it in my former phrase) gets translated through the huge curriculum vitae by the members involved. The project was formed by Dirk Swartenbroekx, who works / worked with the likes of Buscemi, Radical Slave and Squadra Bossa. Via their own Radical Slave Recordings, Azure Mortal did release some singles, amongst which one that was composed especially for an art performance by visual artist Rudi Eurlings, who took care of the cover artwork for this first album, by the way. Another single was used during performances of art-dance group Luna for your information.
For this album, Dirk (synths and samples) did work with guitar player Rodrigo F. Palavacino (who worked with e.g. Novastar, Manngold De Cobre, Daan, Arsenal, Gabriel Rios, Mauro Pawlowski a.o.), sax players Peter Verdonck (he isn't part of the live line-up) and Mattias De Craene (think: Nordmann, Manngold De Cobre or Flat Earth Society), drummer Elias Devoldere (also in Nordmann) and vocalist / narrator (and actor) Ernst Löw (who did some things, musically and, eh, in private, with Deborah Ostrega). Everything was written by Dirk (the lyrics by Ernst) and recorded at the Torture Room, and the albums comes with four live bonus tracks, which were recorded at the end of 2015 at the CC Evergem.
Duivels (meaning 'devils' or 'devilish') probably deals with the demons in your head. Including the bonus tracks, the whole album lasts for almost seventy minutes, and the keyword is: diversity! Or is it 'schizophrenia'?
The album starts with Waai (meaning something like 'blow'), which mixes darkened ambient drones with cosmic Trance-Electronics and hints of Intelligent Dance Music of the most eerie, mesmerizing kind. More compositions follow, more or less, that direction. Deadwalk, for example, is a quite obscure and minimal piece of dungeon Drone-Ambient, little à la Vond or an unhappy Fata Morgana. Deadweight (released in 2015 as well as digital single) is more like a semi-martial Trance-inducted piece of Neo-Industrial / Ambient, including hypnotic guitar riffs, beautiful piano melodies, vocal samples, and floating synth lines, but especially the ritual drum patterns offer that little more. Absolute minimalism gets offered through elegies such as Gene Krupa Goes Bananas, L'Horizon or Bagatelle, while Pompeii or 3 Piano Piece (also from a former single) remind me a lot to some 'activities' on Philip Glass' Koyaanisqatsi soundtrack.
Quite remarkable and, let's admit, extremely unexpected, are the songs which include the spoken performance of Dutchman Ernst Löw. His vocal contributions are, tone-wise, of the warm yet twin peakish kind (meaning: bizarre, obscure, over-the-top yet still intriguing despite the hints of exaggeration). He 'tells' something, though it's poetry, not a story, but quite disturbing, frenzy poetry. Nacht ('night') for example, is, seen from musical point of view, a mostly uncomfortable and hurtful soundscape, based on machinal sampling and dark-gloomy piano tunes. But the voice of Ernst, and his lyrics (in Dutch, dear people), give that something unusual, original, unique. It's like sitting in some cave pub, full of smoke, a fifth glass of (too expensive) whisky before your nose, a young girl dancing on the stage, … Oops, I always let myself go, but it's the whole setting that is so 'Lynch'-like. On Raven, for example, Ernst tells about the thoughts of a girl in a big city, being lost and nothing, and still present and irritated by her environment (sonic-wise, it's like a frenzy ImProvo-Jazz thing that twists and disturbs the mind). And what to think about the title track, being based on demonic rituals à la Aghast (the one with Andrea Haugen) and soft-spacy tribals, including those voice (+ lyrics)… Give the guy a drink, for xxx's sake…
The live tracks that have been add as bonus are truly a great addition too. The (very short) piece Afro Spirits comes, evidently, with samples from African chants, but especially the energetic, cordial percussion is interesting. Funky percussions and overwhelming jazzy sax contributions overpower the live editions of Gene Krupa Goes Bananas and L'Horizon (and whether you're 'into' Jazz or not: the performance and own-faced approach are surely high-levelled). And I wonder what the trance-ambience would have been like when performing Duivels, with Ernst bringing his evocations; those ritual drum patterns and schizoid saxes must have created an atmosphere that might influence etc… Under influence should / would / could have been a surplus too on that very same evening, but that's another story…
Now it's time for a glass of rum on the rocks… I don't want to be the bottle being empty, but my glass might not be either…