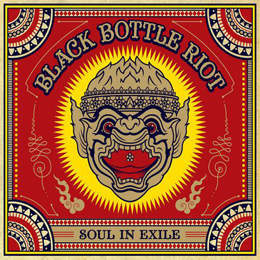 I have no idea why this stuff was part of another big pile of new releases that came my way. I did greet this new year with about eighty fresh records (lately-send stuff from 2013 as well as upcoming material for 2014) (PS: don't get me wrong; since I am obsessed by the obscure side of Aural Art, I will never complain about an overload on new and old stuff; besides all those albums send to us via different distributors and independent labels, I do also spend a lot of money in buying Metal stuff too), and within this pile of Doom, Death, Black and Funeral Doom Death Black Noise Industrial Grind Metal releases, Black Bottle Riot's Soul In Exile showed up. Well, since I try to be more open-minded (more than once, our dear colleague Tony mentions the necessity to be 'accessible' for things that cross man's own safety-borders), I try to review stuff that isn't necessarily 'within my familiar area', even though hundreds of other releases are waiting to have the honour to be reviewed by undersigned. And this brings me to the core of this review, which deals with Soul In Exile, the new album by Dutch act Black Bottle Riot.
For this record, the guys went into total seclusion in some outlying manor at the shores of Normandy, France. At that place, and during those days (and nights), Black Bottle Riot wrote the basement for their second album, inspired by, I guess, lots of whisky, weed and Seventies Rock / Metal at the back ground.
The result is a mostly organic and unpolished collection of bluesy / southern Rock anthems in the vein of Thin Lizzy, Lynyrd Skynyrd and The Red Devils, mixed with elements from earlier Black Sabbath, The Allman Brothers, Molly Hatchet, Santana (some leads are enormously inspired by this guitar master) and ZZ Top. And despite the 'dated' approach, this material does not sound 'passé' at all. On the contrary, Soul In Exile is a timeless album with a Sixties / Seventies vibe. It sounds refreshing and pleasant, without falling into pathetic and artificial nonsense. And within this specific genre, this album is excellent.