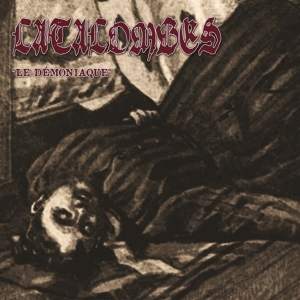 I did never hide my dedication for Nordic styled Black Metal.
I did never hide my appreciation for R., the very sympathetic guy behind Hass Weg Productions.
I did never hide my preference for that French label I just mentioned.
Why these three phrases? Well, for Hass Weg Productions release about nothing else but true Second Wave-oriented Black Glory Supremacy! And this time, well, what do you think…
I wasn't trusted with the project Catacombes, but deep investigation (ahum) taught me that Catacombes is the name for a solo-outfit by someone called Le Démoniaque, and this seems to be a nickname for Antoine Guibert. Antoine, then again, is the guy behind mighty outfit Onirism, and known for his collaboration in e.g. Hentgarm and Belenos (the latter being involved with as long-time live musician). Indeed, that guy…
Antoine started Catacombes quite recently, and at the end of 2016's Spring he released some demonstrational tracks via his Bandcamp page (which have been re-recorded for this album too, by the way). He wrote some more pieces, and eventually he recorded a first full length, which lasts for about fifty-four minutes. And hail and praise, for it gets released in an edition of 500 copies by Hass Weg Productions. Respect!
From musical point of view, Catacombes surely fits to the label's roster. As stated: Catacombes know how to deliver traditional early 90's kvlt hate, he's a disciple of the heinous path! It says a lot, yet not everything yet. That 90's feeling, that's a certainty. After quite an unusual intro, called (Introduction) – French it is indeed (it actually made me crave for a piece of baguette with Camembert cheese and a glass – or a couple of glasses – of Chardonnay; but that's another story…), the 'real' stuff starts off with the track "Le Démoniaque" (indeed, with the ' " ' included, in contradiction to the other parts). Yeah, this is the true approach of Nineties-oriented Black Metal. There is that fabulous equilibrium in between epicism, melody and aggression for sure (and it counts for all compositions, evidently). This title track, for example, combines epic-melodic excerpts at the one hand, comparable to the Norwegian scene (it is not that strange to refer to e.g. Forgotten Woods, Kampfar or Hades; even early Gorgoroth do come to mind), including those proud and hypnotic tremolo melodies, with at the other hand those wonderful (what's in a name) fierce eruptions of anger and hatred. The combination for sure reminds me a lot to the Finnish scene too (Horna, Satanic Warmaster, Diaboli and Sargeist). The rhythmic part is very uplifting, energetic and pushing-forward. That's a nice aspect, for it results in a certain taking-no-prisoners mentality. Rhythm guitars, bass lines and, especially, the drum patterns, co-operate very closely in order to create a mostly overwhelming result. And they succeed. The lead guitar parts, at the other hand, create that atmosphere of pride, victory, glory (though the textual side of Catacombes is not necessarily, er, Viking-ish oriented). And on top of it, it gets empowered enormously by the truly hateful raw screams of Monsieur Le Démoniaque.
Next isn't but a subjective, personal opinion, but it is of great importance, I think. Most hymns are fast in their play: from mid-tempo fast over speed-up to almost blasting (yet never with an exaggerated attitude). Pompe Funèbre, then again, is a very slow track. It's not doom, yet slow and pounding, and probably the most oppressing and asphyxiating track on this album. It proves that the guy behind this one-man army is able to go further – and yeah, once again the supremacy of the Scandinavian scene gets proven hereby. Also, an instrumental intermezzo like (Interlude) (mind the parentheses, like in the intro), even though it's quite short, with semi-acoustic guitars, is a nice additional element.
From productional point of view I can't think about anything negative either. The sound is quite unpolished and rough-edged, strengthening the abyssal-dark atmosphere of the whole situation. I think the mix is quite professional, even though I would have liked to have the bass and rhythm guitar parts little more on the foreground. Yet the lead riffs, vocals and drums are nicely balanced in sound.
Anyway, whether you like the French, Canadian (Quebecois), Norwegian or Finnish scene, I promise you that Le Démoniaque will satisfy your eardrums, as well as your spirit. Everything on this album pays tribute to the never-forgotten roots of the scene (let's skip the fabulous existence of the Eighties' First Wave current for a moment). I do not think you need any more persuasion to go look after this album…