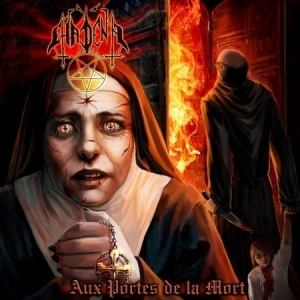 Release Date:
Monday, February 12, 2018
First this: Aux Portes De La Mort ('at the gates of death') was released on February 12th 2010, but the scroll-down menu does not go back that far. But once again: 2010!
This album was the very first release on Hass Weg Productions, a label that soon transformed into one of the most important (French) labels when talking about 'true' Black Metal Supremacy. The label is led by the very sympathetic misanthropist R., ultimately devoted to the reality and purity of the Black Metal scene. So, the history started by a first Chadenn release (there was a second as well; I will have a review published later for that second album, which is called Pour Redevenir Poussière), a French band that was formed in 2004. After some demonstrational recordings, the four-piece (vocalist Yell, bassist Thurisaz, guitar player Lux -who left in the meantime-, and drummer Odarec) recorded nine tracks to be used for their debut, and they signed to Hass Weg Productions for the official release, as mentioned before. It was pressed in 1,000 physical copies (the digital age was slowly entering the modern times), and comes with an eight-page booklet, which include the lyrics. Those lyrics, by the way, are totally in the band's mother tongue.
First a short word about the cover art: silly or grandiose? That's up to you. A nun, praying but being possessed, a maniac who just seemed to kill a young girl, standing before a burning portal, and the band's logo, including crucifixes and a pentagram… Indeed, it might give an impression of what's next to come…
And from aural point of view, eh, point of listen, you get what you could expect. And here too, it's up to you: you will adore it, or you will get disgusted. After a short (negligible) intro, with acoustic guitars and different samples, Chadenn play a form of Black Metal that goes totally back to the essence. No trends, no gimmicks, no modern additions whatsoever. It's the good old approach of the Second Wave, including a nice equilibrium in between melodic and epic parts at the one hand, and harsher outbursts at the other, with a heavy rhythm section, simplistic riffs (and 'simplistic' does not needs to be considered as a negative thing!), thrashing solos, extremely grim, somewhat distant screams, lots of energy and atmosphere, and a bad sound. Let's focus on that last element. With a bad sound, I come back to the roots. Damn yeah, the mix sucks (sometimes the bass lines are like gone, the vocals might have been 'promoted' more on the foreground, and the balance in between all aspects is not truly 'balanced') and the production has some blurring noises on the background. But hey, as said, this is like a tribute to the harshest regions of the Nineties' supremacy, and therefore we must forgive them…
Song-writing and performance lack of any form of creativity or an own identity. Even the song titles are so typifying (which does not mean uninspiring): Funeste Passage, Révélation, Aux Portes De La Mort, Black Métal… But once again: you go back to the essence, or you look for something modern, progressive. In the second option, you won't be satisfied by this material. But seen from melancholic point of view, and that isn't but a personal opinion, of course, it is always a pleasure to undergo this kind of sh*t. Actually, the diverse song writing and epic performance are not bad at all. It might be predictable from time to time, but since the totality is quite cool and attractive, the lack of being renewing is of no importance in this band's case.
I will not go any deeper into the matter right now. Remember that twenty-five years ago, we had a glorious revival of Extreme Metal by means of that SWoBM (Second Wave of Black Metal), and back then nobody cared about under-produced sound or returning clichés. You better do not complain either when listening to Chadenn's Aux Portes De La Mort. Amateurs of (universal) old styled Black Metal with a thrashing twist and a grim attitude will appreciate this stuff for sure.