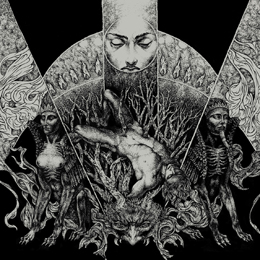 One of the things Nele from Consouling Sounds did send to our headquarters is the Deuil-album Shock / Deny, the successor of 2013's Acceptance / Rebuild. Once again the material deals with life and death, as the title suggests, and this time, more specifically, with the first two levels of the mourning / grief process (the bad news-shock and denial), and feelings of loss, sadness and loneliness. But first things first, and that's a very short introduction to the band: a four-piece from the city of Luik (in the French-speaking part of Belgium), formed in 2012, and named 'deuil', which means something like mourning, tristesse, bereavement. One release in mean time, the higher mentioned Acceptance / Rebuild, done on tape and CD-r (though very limited), and about to be pressed on vinyl later this year (!).
Shock / Deny once again is a two-tracker, with two lengthy pieces. The smartest ones already figured out: Shock (duration: just over fifteen minutes) and Deny (almost fifteen minutes of length). It was meant to be released on August 19th 2014, but I'm not sure what caused any possibility of postponement, but apparently it took… Whatever, here it is…
Shock opens a mostly droning-sludgy way, with at first a semi-industrialized introduction, then a riff so intensively heavy and down-tuned and that sudden blackened outburst… It's not the vocal part only that refers to the Black metal scene. Though, those main vocals indeed are extremely grim and throaty, right from the deepest abysses of Mater Terra. The riffing / melodies too remind to the Black-oriented scene, yet seen from different angles. At first, it's the Post-Black scene that comes to mind especially, with that necrotic and desolate sound. But as from about four minutes, when everything turns more melodious, the whole totally turns into specifically Nordic-influenced Epic Black spheres, much alike to the glorious scenes of Scandinavia, Canada and France. At almost six minutes, the whole turns into some progressive experimentation (without exaggeration) that brings so-called Post-Hardcore bands from France of Switzerland to mind, before turning once again into doomed dimensions of hypnotic excellence. It goes on this way, with changes in structure, execution, melody and speed every single minute, yet throughout the whole experience, it sounds so cohesive. It's like a natural process, like one single story needed-to-be-told in different chapters that stands like a total experience. It stays that intriguing up to the outroduction.
Deny is, evidently, quite comparable in structure and spherical point of view. It builds up from a noisy-sludgy-doomy passage, reaching a first peak after about two minutes. The intensive power and the perfectly balanced mixture in between Nordic Black Metal and droning Sludge shows, once again, the strength of these guys. Deny might be little more atmospheric (which does not mean: softer!) and introspective (which does not mean: regretful) than the first composition, but in general it comes closer to the so-called 'Cascadian' sound which sort of reaches its highest peaks lately. But these guys do not to be afraid to fade away into oblivion, for they must be heard. Deny is just a fabulous brain-smasher with so many levels and dimensions, filled with tempo-changes, hooks, variations in melody and structure, and so on, yet with one thread: craftsmanship!
I am not sure whether it has to do with the country this band comes from (and no, I am not such a chauvinistic guy at all!), with the specific mixture of styles, or with the label (though: they belong to Earth's finest for sure!), but once again this is a fabulous Belgian Doom / Sludge / Black act on Consouling Sounds, so it can't be just another coincidence… Fact is: Deuil surprise, capture, bewitch!