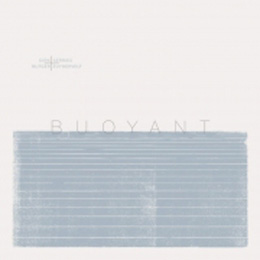 Pretty soon I will come back to the new full length by Dirk Serries - you know, the guy behind acts like (defunct) vidnaObmana, Microphonics, Continuum, The Void Of Expansion, Fear Falls Burning, Streams Of Consciousness and so many more. That album, for your information, is called Unseen Descending And Lamentations and has been released as well via ConSouling Sounds; stay alert! This review, however, deals with another thing this Belgian artist did record in collaboration with a well-known musician. Dirk did work with some great names before, such as John Dikeman, Colin Webster, Tomas Järmir or Teun Verbruggen. Especially within the more Jazz-oriented scene these names will ring a bell, I guess. This time however, Dirk joined forces with Dutchman Rutger Zuydervelt, who's part of acts like Piiptsjilling, Cloud Ensemble a. o., as well as the guy behind Machinefabriek (!) or cooperative outfits with Gareth Davis of Shivers-fame (Rutger is part of this combo too) or Tim Catlin (Helium Clench).
Serries and Zuydervelt recorded four pieces under the working title Buoyant, which have a total running time of forty six minutes (eight to fourteen minutes each). And for sure there are so many 'evident' links and winks to both members' outfits. Opening piece Lost Trail, for example, and actually this goes for the other compositions too, is some organic, floating and atmospheric symbiosis of trancelike-industrial sounds, spherical Ambient and dark-spaced Drone. Minimalism goes hand in hand with deep-emotional ambience; I know it's rather a contradictio in terminis, but it does cover the package for sure. But those sonically-translated dreamy dimensions remain / maintain, and especially through grandiose explorations like Unraveled Blanket, Buoyant shows, once again, the intelligence of both label and both members. No matter if it deals with nihilistic reverse or distant-dimensional feedback; in each case it might caress the listener's senses (just try to be open-minded!).
This material totally fits to ConSouling Sound's roster (cf. several Aidan Baker-involved projects), as well as to several other project both guys are part of. There is no need to hesitate, there is only the urge to hurry up in order to buy this magisterial (and for sure: magic) multi-dimensional aural journey!
A friend / colleague / experienced musician introduced me to the moniker 'Medusada' – I think you might search for the definition and go with this spacy flow…