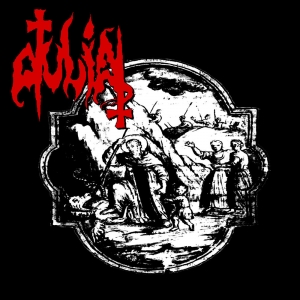 Dulia are a totally new project from Sicily, formed by three extremely talented musicians: Vincenzo 'K. Mega' Giuffrè (keyboards and drum programming) (think: Abgott, Throne Of Molok, Beasts Of Torah etc.), Elio 'Elagabal' Mangiaracina (bass and vocals) (known from Psychopath Witch especially), and Tony 'Zagreus' Frenda (guitars, vocals) (ex-Tragoidia, Necrosis, Thrash Bombz, Kawir etc.). At the end of 2014, the trio recorded their debut-EP Hic Contendimus at the Palermo-based MD Studios, resulting in a collection of five own tracks and one cover song, having a total running time of twenty six minutes. Initially it was released via Isolated Cult Records on cassette and digital (January 1st 2015), and now the EP sees a CD-edition, organized by a long-time trinity, being Metallic Media, Symbol Of Domination Productions and Black Plague Records.
Hic Contendimus, and let's be honest about that, brings nothing new or world-shaking at all. Actually, for the better part it sounds like something you might have heard before. But am I really irritated? No, actually I am quite pleased by the result (once again indeed). As a matter of fact, this band brings a very to-the-pointed mixture of obscure Morbid Death Malignancy and Funeral Black Elegance, heavily rooted within the origins of the Old School tradition. There's pretty much in reference to the funereal aspects of the Doom-Death scene, the epic force of the Second Wave, and the ritual obscurity of many occult acts from two-three decades ago. Not in the least this has to do with the fabulous, and I mean really grandiose, synth passages and excerpts, the magnificent obscured vocal pallet, or the massively grooving string sound, but I think the equilibrium of both Death and Black Metal elements from the late Eighties and earlier Nineties did put their mark on the final result. In general it's quite slow, this material, or at least not necessarily fast-paced, yet with several energetically eruptional outbursts.
Just for fun, though not that imbecile: Necromantia - meet - Unleashed - meet - Darkthrone (Cromlech-era) - meet Lunar Aurora - meet - Opera IX - meet - Emperor, what do you think? Indeed, that's quite appropriate, isn't it?!