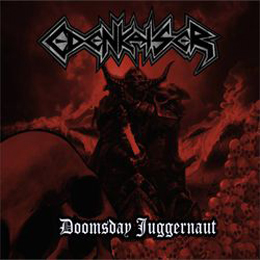 Edenkaiser are a pretty young band from Barcelona, Catalonia, Spain, formed at the very end of last decade by guitarist Häwkmoon. I only knew the band from their collaboration of the Vomitory tribute-album Rebirth Of The Grotesque, on which they appeared with the cover track Inferno.
This mini-record / EP was recorded and produced in early 2014 at La Universal Studio by Uri Sonoro, and it comes with guest vocals on the track Enter Mephisto by Tony 'Secthdaemon' Ingebrigtsen of Myrkskog / Zyklon / Odium-fame. Besides Häwkmoon, Edenkaiser nowadays consists of (female) vocalist Lianne, Vherveroth on bass, and drummer Striker.
Doomsday Juggernaut opens with the instrumental intro Obsidian, which includes ravens' cries (how original… Of course I'm cynical!), but as from Enter Mephisto on, you'll enjoy the core business of the band: rough, primitive, nihilistic Old School Underground Necro-Black with a rusty, rugged sound quality and, unfortunately, a terrible, inferior mix. Despite the pathetic recording sound, however, I have nothing completely negative to add. With Doomsday Juggernaut, Edenkaiser won't deliver 2014's best Black recording for sure, because the individual songs, nor the mini-album in its totality, are not that grimly world-shaking. But the whole certainly belongs to the better middlings. This is the nasty approach that exhales a timeless spirit, and the technically well-crafted primitivism (what a contradictio in terminis) is huge. Also the Punk-laden riffs and shouts might be appreciated by some of the most vicious minds amongst us…
If this Catalonian horde takes its time to concentrate on new (and hopefully less predictable) material, the upcoming full length might strike. There are some good ideas, and the filthy approach isn't but honourful. I do give them the benefit of doubt.