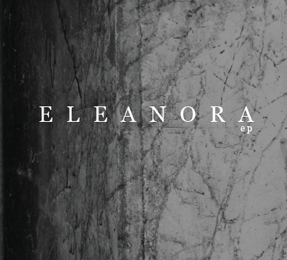 Those who are trusted with Consouling Sounds will not be surprised to notice that Eleanora's newest piece of Aural Art will be released in co-operation with this (excellent) Belgian label. You might have heard of them since they did a split with Amenra, but the best is yet to come!
Their self-titled two-track EP was recorded and mixed at the Hearse Studio and it was eventually mastered by nobody else but Mathieu Vandekerckhove, the guy involved with e.g. higher-mentioned Amenra (and do not forget the Church Of Ra; look out for the upcoming review of this excellent conceptual project, also done via Consouling Sounds), Sembler Deah (one of the best Cold Meat Industry-things that have never been on Cold Meat Industry), Syndrome, Kingdom or Caan.
The EP / MCD opens with Mammon, which clocks nearly eight minutes. And what a start this is! This piece is a prehistoric mammoth-smasher, a massive and monumental expression of aural devastation. In years, and I truly mean it, I didn't hear such intense, sledgehammering lead riffs and supporting rhythm section. Initially it's rather fast and straight-forward, but after a couple of minutes the whole slows down enormously, exploring new dimensions of sonic savagery. Besides, the vocals grab you by your bal… err, throat (yes, throat is what I meant…). And on top of it, there are some additional variations on screams, ranging from hysterical over grunting and guttural…
When it comes to the (consouling) sound, and this goes for both tracks, I have nothing but superlatives. This completely unpolished material is so raw and 'full', without one single point of irritation. The colossal production fits truly the most perfect way by this kind of Post-Hardcore / Sludge / Doom.
The second composition, Amenable, lasts for 7:32 minutes (bringing the total running time of both epics to an acceptable quarter of an hour; though… acceptable? In fact it is not, because this must last longer, much longer - awaiting a full album soon???). in comparison to Mammon, Amenable is much more doomy, epic and asphyxiating. This obscure hymn comes with a rather repetitive yet purely hypnotic melodic fundament, filled with both intrinsic frenzy and external ferocity.
It's simple. If you can appreciate the likes of Amenra (and Church Of Ra, in extension), Isis, Pelican, Year Of No Light, Tombs or Botch, then you know what to do!