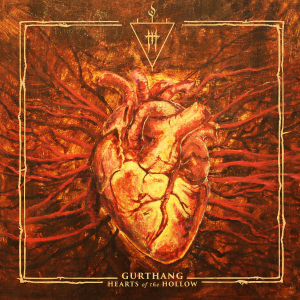 Release Date:
Friday, November 26, 2021
When it comes to the name 'Gurthang' in terms of Tolkien worship, I won't go too deep into the matter this time. 'Gurthang' was a legendary sword owned by Túrin Turambar, hero and protagonist in a tragic story – but even-though I am a dedicated Tolkien-fan, this review does not deal with the great books of that writer.
I won't go too deep into the history / discography either of the band called Gurthang; I would like to refer to one of my former reviews (links: see below) to find out more about this Polish band. I'll focus on this newest full-length album immediately.
And that new album is called Hearts Of The Hollow, released once again via the Flemish label Immortal Frost Productions. Hearts Of The Hollow is an eight-tracker, which lasts for forty-three minutes. It was recorded by quite a stable line-up, being G.H. (guitars), Turenn (drums, co-production, mix and mastering), Stormalv (bass), A.Z.V. (vocals, guitars, lyrics, song-writing, co-production) and Vojfrost (keyboards). Once again, the recording duties took place at the EXE Sound Studio and Nomadic Arts Studio (mix + mastering), resulting in a sound both rough-edged and well-balanced. It totally fits to the sonic nastiness of this act's efforts (see further). The raw sound production does strengthen the vile approach of Gurthang's blackened and doomed creations, but the fine equilibrium makes the listener paying attention to the individual and mutual qualities of the musicians involved. It's truly nice to be able to analyze all aspects, whether it be the ruffling drums and percussions, the down-tuned basses, the atmospheric synths, the narrative voices, or the melodic lead and rhythm guitar section.
Actually, this statement already gets confirmed via the instrumental introduction Vide De Cœurs. Except for the voices, all above-mentioned details get expressed in strength and elegance, resulting in a slow-paced and dreamlike intro. It is heroic and glorious at the one hand, and somehow dramatic too, at the other hand. All strings and percussions are canalized into a short yet captivating prelude to what's next to come.
What comes next is, well, those who are trusted with this act will not be disappointed. With Hearts Of The Hollow, Gurthang continue their own-faced approach of very eerie and morbid Black Metal. Their compositions of quite considerable length (except for the intro and outro, all pieces have a total running time in between almost six and eight minutes) are created around a melodious center, translated via pounding and pushing rhythms, mesmerizing leads and captivating, memorable atmospheres. The better part is, once again, based on slower to mid-tempo structures; pyroclastic blasts are not the foundation to express their obscure messages, in this band's case. However, the harshly sluggish constructions get often, brutally and mercilessly, interspersed by venomous outbursts and intolerant explosions; once in a while it thrashes and devastates.
Gurthang do have a touch of mysticism and ritualism as well. The few semi-spoken words and the somewhat whispering throat strengthen that approach. Take a piece like Concealed Beneath, for example, with these characteristic vocal additions in combination with a gloomy melodic fundament, these pernicious leads and those inebriating semi-acoustic passages. In combination with down-tuned grooves and a timelessly sounding framework, it does accompany a universal vision on technicity (especially the faster drum patterns and thunderous rhythm guitar session; complex yet without exaggeration) in combination with, as said before, melody. Many bass-parts too have a mysterious groove going on, like in the mentally-cosmic title hymn.
Just like before, and maybe even more than ever before, this Polish horde trespasses the limitations of 'Black Metal' an sich, creating an own approach of sonic morbidity and aural frenzy. Hearts Of The Hollow may not be the most 'adventurous' or mind-blowing album in Poland's history, yet its expressive and eccentric attitude for sure enthralls and captivates. Rather than a 'horns-up' frame of mind, this phlegmatic album has a semi-nostalgic and quasi-idyllic orientation. Some might dislike it; others will adore the whole venture. For what it is worth: I am part of the second category (horned smiley included)…
Besides the contemporary digital availability, one can find an edition on compact disc, which was printed in an edition of 500 copies, as well as on vinyl, available in three different (and, evidently, limited) formats. All of it does come with fine artwork (a human heart in fifty shades of red), painted by label-devotee Ronarg, and with the lay-out taken care of (once more) by Marko 'Kozeljnik' Jerkovič aka WrathDesign.
https://smarturl.it/Heartsofthehollow
https://www.immortalfrostproductions.com/releases/gurthang/gurthang-hearts-of-the-hollow-cd-lp-digital/
https://www.concreteweb.be/reviews/gurthang-1
https://www.concreteweb.be/reviews/gurthang
https://www.youtube.com/watch?v=X_xSfTWnSHs
https://gurthang.bandcamp.com/album/hearts-of-the-hollow