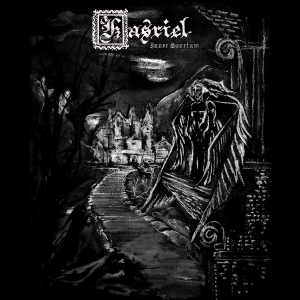 Release Date:
Friday, November 25, 2022
Quite recently I got in touch with a sympathetic human being from Argentinian soil, Leandro 'Ăνδρος' Pendino. Apparently, this guy has some projects going on, although I do not know which ones. …with one exception: Kasriel. It was this specific project that drew my (worthy, of course; haha) attention. Kasriel is the moniker of a Dungeon Synth project that released a first recording at the very end of last year's Autumn. And if this is just a first effort in a series of much more to come, well, then I can't wait to hear any upcoming release. But first things first…
That first Kasriel album is called Inner Sanctum. The title refers to the concept of the seven titles involved, which narrates about an angel that seeks revenge after being betrayed by his own kin. After that treasury, the angel forsakes his faith as celestial creature through penance, revenge, isolationism and rebellion. Inner Sanctum is like the first episode in this (hi)story, focusing on a night spirit that meets the protagonist, after decades of isolation and desolation, called Kasriel, in his barren and mysterious castle, wandering 'around the rooms [] which are nothing but a reflection of his most inner mysteries' (quote I 'stole' from the biographical description), which are filled with secrecy and enigma.
Except for the truly breath-taking artwork – which is courtesy of tattoo artist Diego Martin Guzman aka DMG – everything was done by Ăνδρος himself: song-writing, performance (instruments and voices) (the material was recorded during 2021), production, mix and mastering. The result is a very varying piece of dark-atmospheric and epic ambience with a cinematic character, clocking about thirty-eight minutes. All 'individual' hymns are quite different, but at the same time enormously cohesive, resulting in a sonic adventure that surely acts as one adventurous and intriguing story.
Inner Sanctum opens with Overture: When The Cold Winds Blow, starting the quest towards the semi-abandoned castle where Kasriel wanders around for centuries. Howling winds and wolfs indeed introduce the story, and soon these sounds get joined by a bewildering piano melody. It sounds gloomy and downhearted, yet then again quite undaunted too. Especially when some martial drums and mystic (church) bells get introduces, that audacious character gets fortified. And even-though this track isn't 'but' the introduction to Inner Sanctum, it does open a gate to the listener's imagination and fascination, while building up, step by step, stronger and more convinced, towards the end. …excellent opening sequence for what might be a story of tragedy and introspection, bravery and despair. Very smoothly, it transforms in a more integer episode, with an almost divine execution. The Path To The Castle promulgates the doom behind the story, with floating synth-lines, gothic-laden melodies and haunting noises at the background. When the castle gates are opened, Kasriel welcomes the visitor, asking if he dares to enter, since 'the castle is nothing but a concrete screen'. The (fallen) angel will show his 'images of despair, sorrow and solitude'. It's, by the way, one composition out of two that includes voices (echoing whispered ones).
It's here that the spirit enters the mighty realms of Kasriel's world. Into The Shadow's Hall is a short piece (unfortunately), clocking less than two minutes. It's a mystic yet bombastic piece with an orchestral cathedral-like sound, sort of sounding like a massive pipe organ reverberating in a huge church nave. The weight of this short yet profuse piece oppresses and impresses, and acts as a perfected preamble to The Chamber Of Lunacy. Here too that church-like character resounds at first, before evolving into an intrepid exploration through dimensions of wonder, mystique, intrigue and divulgence. Multiple epic synth-lines get injected by different percussion and drum additions, being canalized into a grim yet, at the very same time, unfathomable symphony.
With Delusional Dance, Inner Sanctum initially delves deeper into spheres of enlightening elegance and dramatic neo-classicism. For some reason, and for what it's worth, Sopor Aeternus comes to (my beautiful) mind. That illuminated approach moves forward to a vivid experience, with plenty of keyboard and clavichord-like structures, eerie melodies at the background, and a wide amount of drum and percussion-work. This theatrical bombast (and in this case this is not meant pejoratively negative, on the contrary) progresses through Night Spirit, that, however, holds back in intensity and vigor. Everything turns, 'Music'-wise, towards melancholia and introspection, when whispers express sentiments of sorrow, penance, grief, loneliness. Integer acoustics instead of grotesque choreographies accompany these void-like whispers (this indeed is the second track which includes voices), also joined by distant winds, which cause coldness and lifelessness to the listener. Very organically, things transfigure in a horrifying sequence, reminding me of a late-medieval tragedy of supernatural nature. The Cathedral Of Solitude (which is, by the way, the lengthiest hymn with its duration of nearly twelve minutes) starts with a harpsichord-like melody, ghastly and macabre, soon enriched by floating synth-waves and mighty militant and martial drum patterns. After a couple of minutes, epic synths, vengeful and fearless, take over the ambience, before evolving into an extensive yet, at the same time, precious symphony of eminence and abundance. Things permanently change, naturally yet remarkably important, teasing and pleasing the listener's attention and impression. Smaller, introspective chapters (several fragments come with fine-tuned piano-work, distant chimes and bells, and subtle percussions) interchange lustrously with overwhelming excerpts, climbing up towards a grand apotheosis.
As mentioned in the first paragraph, I am impatiently waiting for more to come. I am thrilled to know how the story of the Spirit and Kasriel will continue. But above all, this bleak yet dignified album has a lot to offer in atmosphere and in performance. Together with the perfectly-balanced and well-produced sound-quality, only superlatives are appropriate.
https://kasriel.bandcamp.com/releases
https://www.instagram.com/dmg_tattoos/