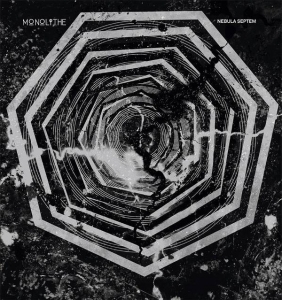 There are quite some interesting acts within the French (Funeral) Doom / Doom-Death scene, and one of my preferred ones for sure is this one: Monolithe. I won't go too deep into this band's biography / discography; I'd like to refer to my reviews for some of their albums, if interested, which I have written for the compilation Monolithe Zero (http://www.concreteweb.be/reviews/monolithe-1), the re-issue of  Monolithe II (http://www.concreteweb.be/reviews/monolithe-2), Monolithe III (http://www.concreteweb.be/reviews/monolithe) or Monolithe IV (http://www.concreteweb.be/reviews/monolithe-0).
Once again, this new one, Nebula Septem, was recorded at the Hybreed Studio (drums and vocals) and the Red Reed Studio (bass and guitars), and mix + mastering were done by Swedish sound wizard Jari Lindholm. Everything was written, as usual, by band leader Sylvain Bégot. After the recording sessions and the final mix, the band signed to another interesting existence from France: Les Acteurs De L'Ombre Productions. It gets released the digital way, on compact disc (digipack, 1,000 copies), and on vinyl (2 x 12", 300 copies).
In some way, it is a conceptual creation, with seven tracks included, entitled with the first seven letters of our alphabet, and lasting, each of them, for seven minutes – not strange for a seventh album… 777, the number of another beast… Nebula Septem indeed… So I have to admit that I was truly anxious to listen to this new album. But I am sort of surprised, for there is something going on I am not used to (as you will).
Like before, Monolithe perform an ultra-heavy form of somewhat funereal Doom-Death Metal with an epic attitude. This still goes for all instruments involved: lead and rhythm instruments, and vocals. No matter whether you're going through an extremely slow, a doomy, or a faster passage, the melodic aspects are inherent to the firm and convinced epics. But what strikes me is the progression. And with progression I focus on the definition of technical craftsmanship rather than the evolutive one (though they are, evidently, closely related). The technical aspects sort of overrule the oppressing intensity from the past; it's like an ambitious urge to overgrow the past. Whether that's a positive or negative thing, well, that's personal. I liked, and prefer, the old way, but it does not mean that this is a disappointment – but that isn't but a subjective element. On this album, the band is not exactly experimenting, but they are playing with more subtle technics in song structure, melodic interplay and sound. Yet still, the organic result remains, and that is nothing but a positive thing. Another interesting element is the combination of their own-created identity in the past, and an approach towards the greater names within the international scene. In a very open-minded way, you might find more 'traditional' details and elements reminiscent to the likes of My Shameful, Evoken, Lycus, Fatum Elisum, Quercus or Who Dies In Siberian Slush. There is more melancholy than darkness this time, and the injection of electronic elements, for example, is a new angle we haven't experienced before this profoundly. Okay, the diptych Epsilon Aurigae and Zero Reticuli was like an omen for more progression (hello Opeth or Tangerine Dream, cf. the opening sequence of Fathom The Deep) and modernism to come (despite the increased old schooled elements indeed). But luckily the balance of their own origins and the traditional scene are more balanced on this album. The result is less obscure but much more dynamic, and this permanent progress of the band did not result in a total disappointment.
To be honest: of course I do prefer the oldest recordings, those lengthy one-track monuments, breathing despair, doom and disgust. This evolution is not bad, as mentioned before – once again it isn't but my personal opinion, yet since I am the reviewer, I can write whatever I want – but quite remarkable. Especially, when a piece like Gravity Flood lacks any funereal aspect, yet focuses on some cosmic, semi-astral electronics instead (which does not necessarily needs to be bad, okay – yet in this case)… No, seriously, this is a Monolithe album you have to grow into. After several listens, I am slowly entering the core, and it's hot inside. But dearest reader, if you're trusted with the I up to IV series, this needs another mindset. But give it a try…