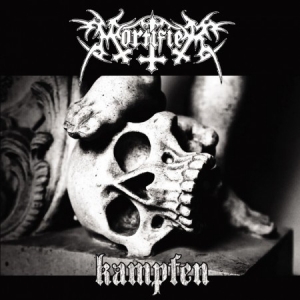 Release Date:
Tuesday, September 1, 2015
The Italian band Mortifier, which shares (or better: shared) members with e.g. Buio Omega, was formed during the first half of the nineties. In that period, they did record some demonstrational material, as well as the full length Darkness My Eternal Bride - which was, by the way, one of the first releases on the Battlegod Productions roster (hello Buio Omega once again…). Then things faded into overpowering silence (with exception of a re-release of that debut album), yet officially the band never disbanded. And then, in Spring 2015 the quartet (Murthum – 666 deathsaw of misanthropic carnage; Arcanum Anima – panzerfaust, choirs, clean voice and whispers; Lux-Fer – terror propaganda; Nerul – unholy hell battery of mass destruction) returned to the studio (the Rome-based Luciferian Frequencies Studio) in order to record a new full album. It's called Kampfen and it comes with rather specific cover artwork (by Mystical Prods).
Mortifier did sign to 'true' Black Metal label Hass Weg Productions (no gimmicks, no commercial bullshit, just real 666-honesty), which released this album on CD on September 1st 2015 (999 pieces being created to dominate our globe). Somewhat later, they also released a cassette edition (though being extremely limited to an edition of 99 copies) as well as a vinyl pressing (300 copies).
Kampfen opens with a bizarre introduction, which mixes elements from Death Industrial, Black Noise and samples from inter bellum Folk Music, and it remarkably smoothly evolves into the foul and fierce violence of Plague's Reaper, a piece of true blackened terror and sonic disgust. Like a rabid chainsaw, a tormented sonic turmoil, Mortifier strike and hit, fast-forward, merciless, vengeful. This is like war propaganda in its veins!
I get really blown away by the massive, overpowering and monumental execution, for Kampfen is a whirlwind of blackened noise, a barbaric skull-crushing assault, a sadistic form of sonic malignancy and torture. Gone are the occult spheres of old – please welcome the militaristic and warmongering evilness that characterises this album!
It is truly remarkable how intense, how overwhelming, how skull-smashing this album sounds. For a part it has to do with the sound quality, of course. This one is more than acceptable – maybe the rhythm instruments could have been pronounced little pore to the foreground, because the sonic result might be way too chaotic within the more bombastic parts (and to be honest: sometimes I am not sure whether there's some hidden synth, or just a malformed string-cord going on). But the intensity for sure has to do with the execution: an avalanche of (cohesive) melodies, a whirlwind of (coherent) structures, a massive wall-of-sound. It's like an unstoppable bit in one's hand's tank (or something like that…). No, I just mean that the overpowering intensity of both sound and atmosphere are of a megalomania grandeur, and you know: I adore it! This is the kind of exaggeration that I can accept, that isn't infantile or pathetic, that empowers our mutual misanthropy. Hail misanthropy! Hail… But that's another issue right now (message to myself: stay calm and …Hail misanthropy… oops, I did it again…). No seriously, the filthiness, thrashiness, evilness that gets executed right here is of such grandiose level! It's even passionate and emotional (!) to experience such apocalyptic soundtrack!
This album is something you really have to experience when you're suffering from cardiac of mental problems, when you're some 'fan' of one or another monotheistic religion, or whenever you think you're a being worth populating our globe, yet still being nothing more than a parasite. Then it will destroy you, and then I will laugh… But until then: suck the toe on the skull!