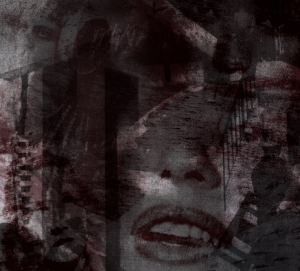 Release Date:
Monday, February 29, 2016
Das Lächeln, Deinerseits is the third collaboration on Consouling Sounds that was created especially for this Flemish label's inception celebration (their self-developed so-called Consouling Split Series). After a co-operation in between Gnaw Their Tongue and Alkerdeel, and Vanessa Van Basten with Hemelbestormer, now it's time for Viscera/// joining forces with N.
First a brief description about both projects. Viscera/// are an Italian Post-Rock outfit, for which I did a review a long time ago. On February 3rd 2011 Concreteweb published the review for 2: As Zeitgeist Becomes Profusion Of The I, which was my first acquaintance with this band. You can check out that review, if you might be interested, via the 'Archive'-tab on top of this site's page. Remarkable is that this band initially was formed to pay tribute to the most gore regions of the Grind-scene, but with persuasion and conviction they developed their style towards sludgy Post-Modern dimensions. The band consists of vocalist / guitar player Michele 'Mike B' Basso, bass player Gian Lorenzo 'G.C.' Cantu and new drummer Riccardo 'Cardinal Mds' Lovotti. For this opportunity, they joined forces with e.g. Herr Morbid, you know, the guy known from acts such as (The True) Gaszimmer / Aegrus, Congregation Of Misery, Forgotten Tomb, Enthroning Silence and many others. Fernandino 'Herr Morbid' Marchisio here does some session guitar work on this album's fifth act, for your info.
N is a project by German guitarist Hellmut Neidhardt, who sort of numbers each release he's involved with. In this specific case, he labels his co-operation on Das Lächeln, Deinerseits as N(32). He already worked with Consouling Sounds with the quite 'old' project [Multer], in which he is half of the line-up, as well as under his N-moniker he released an album via this label. For this co-operative project, he joined forces with German musician Meinein, who's 'performing' the field recordings and analog modular system.
All these musicians joined forces in order to create that third Split Series adventure, which eventually turns out to be an aural experience that clocks forty-three minutes. And Das Lächeln, Deinerseits searches for a fine equilibrium in between all the projects involved, with their specific identities acting in a well-balanced symbiosis. The five tracks are untitled, or better, these sessions are called I, II, III, IV, and guess what, MCMXI… oops, sorry, I mean V.
I opens like a monocordal Drone-wave, like some hypnotising minimal-sounds slowly crawling out of the abyss, with at the very end the core structures of an omen called II. Damn, this stands in tot al contrast, for hammering with blackness and sludginess, maintaining melody and atmosphere. II is fast and energetic, with quite some attention for highly tremolo-oriented guitar passages, cool, somewhat slamming bass parts, forceful drum patterns and deep-growling screams. There's a certain dissonance going on, which shamelessly continues within the (very short) ritual-progressive sonic experiment that is called III. With its tribal drum experiments and whispers, III sort of acts like an unnatural yet, at the same time, organic 'glue' to introduce IV. It's quite catchy, actually, and remarkably exhaling an atmosphere that can be opened towards sub-regions in the Goth / Indie / Alternative vein. Towards the end, the atmosphere floats over towards the lengthy (nineteen minutes) finale called V, being rooted, once again, within the very mesmerizing, long-stretched guitar-and-synth based vein of transcendental Drone, a specific genre that sort of rises lately (and for sure Consouling Sounds are part of this summoning!). This extended dreamlike passage closes a quite varied and unusual construction of Aural Art, in which all projects involved did inject their core, their heart, their spirit, without forgetting to focus on collaboration, the essence of the Whole. I think this partnership succeeded to reach utter cohesion, instead of losing itself in inner competition. And hey, the aim is to hail the uniqueness of the label, and I do not think this concurrence did not reach its goal…