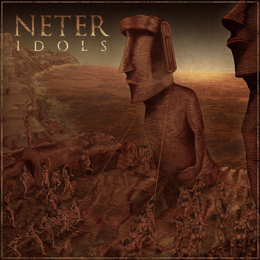 Neter are a Spanish four-piece which I hadn't heard of before. Apparently they did release a first album about exactly six years ago (title: Nec Spe Nec Metu), but then everything turned into relative silence. Until now… the band returns with Idols, which lasts for forty five minutes. The material was recorded in their home country with Raul Perez, mixed by Danish sound wizard and former Hatesphere chieftain Jacob Bredahl (Koldborn, Machinemade God, Panzerchrist, Leng T'che, Horned Almighty etc.), and mastered at the famous Audiosiege studio with Brad Boatright (think: Nux Vomica, Twitching Tongues, Wiegedood, Enabler, Toxic Holocaust and many more).
What Manuel Gestoso (vocals, guitars, music), Manuel Sanchez (guitars), Manuel Romero (drums, music and lyrics; though… wasn't it Luis Ruiz doing the drum parts?) and Manuel, oops, sorry, Andres Rosales (bass) bring with Idols is a timeless form of little technical and melodic Death Metal with a focus on (both American and European) tradition.
Well, what can I say? The whole journey is based on fierce rhythms, technically high-crafted melodies, dry guttural grunts and doomed atmospheres, including the necessary (yet evident) changes in tempo and structure. Indeed, the level of originality equals zero, yet once again the quality of both song writing and performance is quite all right. The very same goes for the sound, coming up with a production that is raw-edged yet not too clinically sterile, and a mix that focuses on cohesion rather than selfish profilation. They evolve from their Swedish-styled origins without getting rid of their roots, and that for sure is a fine element (though, there is nothing wrong with being inspired by the initial grotesquery of the Swedish scene, of course). Nowadays, there are quite some elements from the Polish, German and American scene involved, and still I have the impression Neter haven't found their own sound yet. But as for now, I think that any fan of, let's say, the likes of Decapitated and Origin, or even Gorguts, Vader or Changer, will appreciate this new Neter-album.