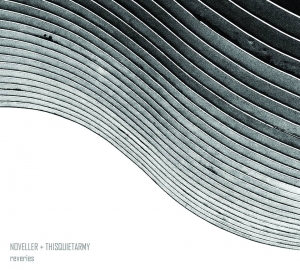 Reveries is a collaborative result of two one-(wo)man projects, Noveller and thisquietarmy. The first one is an outfit of Brooklyn-born composer Sarah Lipstate, the latter one by Montréal-born Eric Quach. For this site, I did write two thisquietarmy reviews before, in case you might be interested: one for the split with Year Of No Light, uploaded on January 6th 2013, and one for the collaboration with Aidan Baker under the Hypnodrone Ensemble banner (published on October 26th 2014). Both of them, FYI, had been released as well via Belgium's finest Consouling Sounds, by the way. Enter the project's name (or the label or the title of the recording) in the 'search'-tab if you're interested in reading those (excellent) reviews.
Anyway, this co-operative was initially released on July 1st 2014 via Shelter Press, at least four tracks out of the six on this re-issue. Both others were created during the very same writing and recording sessions, but they didn't make it to the initial 2014-release. So let's be grateful and pay honour to Nele and her husband from Consouling Sounds for this unique opportunity. All together: thank you, Nele and Mike!
Reveries was recorded in Brooklyn in 2013, and mixed somewhat later by Eric in his home town. Recording and mastering duties were taken care of afterwards by no one else but Brian Wenckebach. It consists of six pretty lengthy tracks (in between five and eleven minutes, with a total running time of fifty-one minutes). And like several albums on this fine Belgian roster, this one too stands for a hypnotic thing based on floating guitar lines especially.
Dreamy longform-oriented soundscapes are quite inspirationally enriching the listeners' mind, when experiencing these luminous and mesmerizing waves of aural craftsmanship. The mixture of dark droning guitar layers and subtle yet profoundly prominent synths / loops are beautifully balanced, resulting in a non-monotonous symbiosis of both fullness and tranquillity. Indeed, this is the kind of equilibrium the listener is searching for when longing for the essence of Ambient Drone glory. There are comparable bands / projects that try, but do not succeed - but in this collaboration's case the interplay does create a wonderful result. One of the reasons, besides craftsmanship and a professional attitude, is the enthralling variation, the permanent tension throughout the whole album. Despite a certain soberness, there is so much to experience, so many levels of sonic grandeur to 'feel'.
There are many emotions involved, many dimensions to explore: loss and grief, wonder, hope too… Challenges, internal searching and external demeanour, scanning behaviour and transcendental, introspective meditation, drama and revelation… It's all part of the whole, and more. Slowly and carefully, both artists built up their Music, weaving an interesting pallet of melodies and sounds towards peaks of aural apotheosis and ecstasy. It goes for each track involved – also the new ones that didn't make it on the original 2014-release.
For those who have the initial issue of this release: this new one with inclusion of two bonus compositions is more than interesting, for both new tracks (as said before, they are not new; they just didn't appear on the former edition) are truly inspirational and breath-taking too (personal note: this goes for Reverie V especially, in my case, for its rich texture and full-bodied execution; Reverie VI is more fragmented, improvisional and 'hollow' in essence).