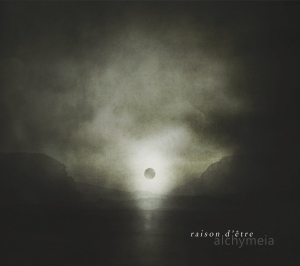 Release Date:
Wednesday, January 10, 2018
On April 10th I published another review for Raison D'Être, this time for the collaboration called XIBIPIIO – In And Out Of Experience, created with another notorious artist, Germany's Troum (http://www.concreteweb.be/reviews/raison-dêtre-troum). It was released via Peter Andersson's own label Yantra Atmospheres, and via Transgredient Records, a sub-division of Drone Records. I will not go too deep into Raison D'Être's history / discography / biography, for you surely know this influential and inspiring project. Peter did compose and release more than one hundred albums in meantime, under several monikers, but his most 'popular' one must be Raison D'Être, as it is his most active one too.
I guess this goes for everyone, but to my opinion some of his releases are extremely wonderful, and some might be less attractive; but each time it's a great moment when plunging into a new sonic experiment Peter finishes. So I was quite aroused when listening for the first time to Alchymeia, and this still happens, each time when I listen to the album. It is the first release for Cyclic Law, by the way. And for this label it is the first release in a new, a second series of another 100 top-products! Initially 500 copies came on CD in a matt-laminated six-panel digipack format (and 500 more were repressed in the meantime), and there is a double vinyl edition too (for the first time?), limited to 300 copies (gatefold, also with matt lamination). Alchymeia consists of four tracks only, but they do clock over seventy minutes. Every single one stands for a phase within the different alchemic stages.
Following the philosophical concept of 2014's Mise En Abyme (which saw the light too via Transgredient Records for its physical release – cf. the aforementioned collaborative effort with Troum – and Yantra Atmospheres for the digital one), Alchymeia is like a quest for the Inner Eye, searching for the darkest levels of our unconsciousness. Inspiration comes from Carl Gustav Jung and his archetypical theories, focusing on the most desperate and darkened aspects of man's raison d'être – haha, got the word-play?... This in combination with alchemic concepts and sciences results in a symbiotic concept, perfectly defined through sonic creations under the Alchymeia banner.
It's not only the conceptual side of Mise En Abyme that continues through Alchymeia. The aural aspect too goes on within that fabulous vein. It starts with Nigredo (a definition for the rotting process of physical things in alchemy), which is the shortest piece on this album with its length of 17:16 minutes. The composition opens distant, minimal, with some sounds, field recordings, samples that offer a bleak, empty view on man's life. It takes two minutes, but then more depth enters. First with some church bell sounds, soon followed by magisterial vocals, divine Gregorian a capella chants that accompany the listener to a deeper, sacral introspection. This experience slowly crawls further, trespassing each level that was just created, adding chimes and wind bells, and droning and ominous synth lines. After about six minutes, everything seems to fade away in shapeless oblivion, but things resurrect eventually. In some post-apocalyptic way, another wave of suffocating sonic nihilism appears before introducing those hypnotic Gregorian chants once again. It's magnificent in its subtlety, and at the same time integer and bewitching. Comparable elements return in the other tracks: chants, metallic objects and bells, and droning ambience. Albedo, the second piece, starts quite worrisome, with some chimes and thunderous drones, soon joined by haunting voices, which remind me of those on Requiem Of Abandoned Souls especially. From sonic angle, this piece reminds me most of its predecessor, though there is quite some Metamorphyses involved too. Especially the mesmerizing and more ritualistic second half does. Simply beautiful is the female choir chants, combined with such depressed, and oppressing, keyboard lines. It's almost cynical to notify such elegant symbiosis! The third epic, Citrinitas, is gloomy, spooky, in a cinematic way. There are so many sonic layers, some subtly hidden, others prominently presented, but in its totality, this aural experience veils the listener in an unescapable mist of both bleakness and warmth. Remarkable is the start after ten minutes, which brings a rather martial, even Lovecraftian hypnosis. Melancholic yet, at the same time, victorious synths, persistent percussions, hidden soundscapes and transcendental chants are combined unto a magnificent, massive auditory spectacle, abstracting any form of colour or light from a vast space of emptiness. With Rubedo, finally, which is the longest piece with its length of 18:37 minutes, we're accompanied to the grande finale, the apotheosis of the prototypical and alchemic process behind this album's concept. Obstinate piano and industrialised sounds and eerie field recordings; for six minutes a vision of harsh and devastating infinity and painful loss gets created; then things, however, turn into another definition of infinity: that of fading away, that feeling of emptiness and insignificance. When the dreamlike female voices join, inner tranquillity overwhelms me, leaving me apathic in a passionate way (imagine?!). Dark-ambient drones, metallised sounds and those esoteric vocals; it's an unbelievable full yet disturbing experience, intriguing, provocative and intelligent at once.
Alchymeia is like the representation of the Magnum Opus from its most primal core. It comes with elements from Requiem Of Abandoned Souls, Prospectus I, Metamorphyses and Mise En Abyme, but once again it shows another well-thought and well-composed side of Peter Andersson's craftsmanship as musician.