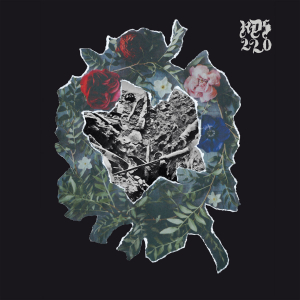 Album Title:
Hell Is Truth Seen Too Late
Release Date:
Friday, September 27, 2019
Anti-pacifists will recognize the name 'rds-220' as an extremely powerful Russian nuclear bomb from that time when West and East weren't best friends yet. Nowadays, that did change, haha. No, I am not going to turn this story into a political one, but an 'rds-220' was used as propaganda material from the former Soviet government against the western enemy – the Iron Curtain story, you know…
But it is the name too for a young Belgian project, a duo that consists of Matthias Halsberghe aka MPH (guitars & programming + production / mix) and Kristof Mondy aka KJM (bass). The choice to use this band-name isn't a coincidence, for both main members behind RDS-220 want to focus on the contemporary mental state of humanity, nations, civilization. It's a message, a manifest against modern times, social extremities, capitalistic selfishness, mass ignorance and mass hysteria, hypocrisy and political games of might and power. This project's moniker says it all! Revolution we need, now!!!
It is in some way an 'apart' combo, and this for two reasons. First of all, RDS-220 have their vocalists chosen carefully, eventually to perform one or two tracks each, with these collaborators' possibility / opportunity to add their own personal contribution the way they wanted – carte blanche for the guest vocalists, as communicated by the label.
Secondly, this recording is the result of an intense process. The songs were recorded during different occasions (with different singers, as mentioned) and released on tape via Svart Blod on limited tape editions, separated from each other under the moniker Hell Is Truth Seen Too Late - Chapters I & II and Hell Is Truth Seen Too Late - Chapters III & IIII. It's evident that these releases were strictly limited, of course.
Enter 2019, enter Consouling Sounds, creating the opportunity to gather these compositions under one flag, with bonus material, in a proper, decent way (on both vinyl and compact disc, as well as digitally). Everything got mastered at the famous Atomic Garden studio with Jack Shirley (the East Room from the studio indeed - think: Deafheaven, Amenra, Wiegedood, Wolves In The Throne Room, Downfall Of Gaia a.m.m.). The eight 'original' songs and the bonus clock little over fifty-five minutes, and do come with extremely unusual, strange cover artwork indeed, created by KJM.
This album opens with the track L'Appel Du Vide, which means 'the call of the void', and it starts with a bizarre and unusual introduction, with acoustic guitars, percussions and different samples, with voices, explosions and stuff. But then, suddenly, after two minutes and a half, everything changes. As from here on, RDS-220 do bring sonic terror crawling out unstoppably from the darkest, most putrefied void.
The whole is basically melodious, with duelling twin riffs as instrumental spine. These riffs and leads are supported by a mostly powerful rhythm section, with monstrous drum patterns, raw rhythm strings and a couple of hypnotic leads. This gets brutally spices by a limited yet highly attractive amount of sharp-edged, thrashing solos. Several chapters have a specific thrashing approach, timeless and old-schooled, grimly polluting the mercilessly assaulting outbursts.
Another surplus might be the variation in vocal timbres. One might detest the lack of vocal cohesion, I guess, but those who don't agree with this variety, well, just f-[self-censorship]. Seriously, KJM and MPH did work with some excellent throats, even though they might come from other musical genres: respectively the sulphur-puking ones by Vvovnds' Jenci Vervaeke (okay, in his main band, even though the stylistic approach is quite different, he's barking like a rabid dog too); the gargling punky yells of Hans Verbeke (also rather involved within the (Post) Hardcore scene; e.g. Rise Above, Liar, Blindfold); the raw, violent grunts of Paulo Rui (ex-Verdun, Redemptus, Besta); the wretched, insolent screams of no one else but Treha Sektori's Dehn Sora; or the shouts, right from the belly, by Bram Coussement (think Haemers, Hessian, ex-Losing Streak).
Damn, this material is intense in so many ways. The better part is fast, and then I am referring to everything in between up-tempo and blasting. Like a bulldozer running wild (just imagine…) or a pyroclastic eruption, the riffs and rhythms thunder and destroy, like a whirlwind, a hurricane, a lightning that splits one's skull into smoking pieces. The whole album has such an overpowering energy, even during the few slower excerpts (like the great introduction of Numbers Delight, the most grooving piece on this album). The explicit thrashing elements cover the whole in a very old schooled nebula, gently touching the scene from three decades ago, and even that time's Blackened Death Metal scene might come to mind (especially in pieces where Paolo mercilessly opens his guttural throat). And in a piss, sorry, piece like Onction you can even enjoy some spacy sounds too.
I have to say, as an honest (and pretty, but that's another story) reviewer, that Hell Is Truth Seen Too Late lacks of originality or any renewing thing. Not one moment you might think that this duo brings something that just changes the scene. This too might scare off some (narrow-minded) humans. But I assure you that you won't be disappointed. There are many projects that perform 'known' or 'trusted' stuff but that do convince because of a certain professional attitude. Well, in this band's case, it is a joy, a pleasure, to experience this thrashing and blackened, somewhat arrogant and presumptuous, aural assault.
The sound quality is of a mostly unpolished, anti-surgical kind, which fortifies the brutality and aggression of this band's message for sure. It's like a sledgehammer sweetly caressing your smashed brain, or like rusty and barbed needles penetrating your eyelid with sardonic pleasure. But if there is one thing I might object to, well, to be honest, the mix might have been somewhat better balanced, to my opinion. I think it is a pity that the bass lines, for example, are not always that audible. The lead guitar sound too is, sometimes, too 'hollow' or 'distant'. But hey, that is just one minimalistic remark, so please ignore it if you are not a purist. But as an honest reviewer, I just have to mention this (and besides, it is my review, so I can add whatever I want, hehehe…). Anyway, recommended stuff from Flemish soil…
https://consouling.be/release/hell-is-truth-seen-too-late
https://rds220.bandcamp.com/album/hell-is-truth-seen-too-late-consouling-mix
https://rds220.bandcamp.com/album/hell-is-truth-seen-too-late-svartblod-mix
https://svartblod.bigcartel.com/products