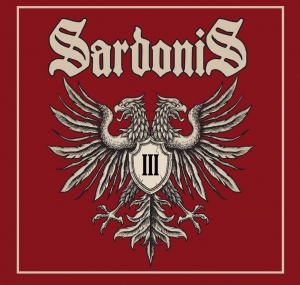 Release Date:
Saturday, September 12, 2015
You know, I rather prefer an instrumental band than an act with a bad vocalist, and you know, there are quite some instrumental bands or projects that are quite impressive, not needing any vocal support. One of those is Belgium-based act SardoniS, a duo (Jelle Stevens and Roel Paulussen) that was quite silent for a couple of years. Their last effort was 2012's album II, as well as a split with Eternal Elysium (Ascending Circulation, released on December 3rd 2012 via Hammerheart Records, and with a [fabulous !] review posted on this site on March 16th 2013, done with pleasure by undersigned), so now we can, finally, welcome this duo's newest recording, simply called III. The release comes out on both CD and LP, and it lasts for almost forty minutes.
Like many acts on the Consouling Sounds-roster, this one just needs some basic instrumentation (right here: drums and guitars) in order to create a grandiose, monumental and massive mixture of sludgy Doom, doomy Sludge and extravert Sludge-Doom. Besides quite some variety in structure (and melody), the energetic approach is remarkable, and so, for sure, is the massive sound. Damn, this kind of stuff needs a 'full' production, but in III's case it goes almost beyond normality. Playing at high volume is one thing, but this production will have your headphones or speakers explode the merciless way.
The efforts come with quite some Stoner and Seventies-Doom elements. Many colleagues do about the very same thing, but in many (most) cases I lead towards some catchy, empty-headed Pop-alike result that truly bores the faeces out of me. Not in this project's case, for there is no poppiness (but damn yeah, there is some catchiness, yet of the attractive and acceptable kind!). No, seriously, often the injection of Seventies and Stoner elements results in pathetic would-be creations, but SardoniS give the finger to that excremental nihilism!
A great aspect is that, despite the inherent heaviness of the efforts, this band maintains to create intriguing melody-structures, being both bleak and colossal. And truly remarkable as well are the many changes in tempo. Actually, the core essence is rather Doom-based, but there are so many fast outbursts, and it sounds oh so organic…
But let's be honest: there are quite some comparable releases lately. The Doom / Stoner / Sludge-scene is growing and growing (I am not complaining), and it brings the listener both excellent as well as hugely disappointing releases. This one dwells in between both of them, or actually, it comes closer to the positive side of the game, to be honest. True fans will recognize and corroborate this statement. But one cannot deny the fact either that there are some more convincing realisations as well. Ah, never mind, ignore my legendary nitpicking, for SardoniS will surely impress (or at least attract) hard-core fans of this specific scene.