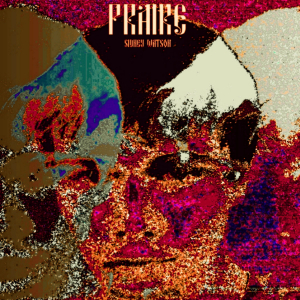 Being a reviewer can be very harsh and confusing sometimes. But one needs to be open-minded and objective, on top of the unavoidable subjectivity that influences your opinion and preferences too, evidently. No, I won't start any philosophical discussion right here. It's just, well, it isn't always easy to find words, or to express thoughts, when you have to 'out-of-the-box-thinking'.
That's the case with this release, called Praire, done by an artist from American soil. I do have no additional information about Sidney Watson, not about the recording itself (the ideas behind it, the concept, or stuff like the production and engineering of it). I just know that Praire consists of ten short 'songs', having a total running time of about twelve minutes. It's a digital-only thing, which includes quite colourful and psychedelic artwork; actually, that visual art works intriguing.
When it comes to the sonic side, that's a bizarre situation. This material gets described as Ambient and Dark Ambient, but that's not totally fitting. He, there surely is a hint of ambiental origin, but this material is way to experimental and avantgarde to label it as 'Ambient' whatsoever. Psybient gets much closer to it. Praire mainly brings weird, unetherizing (a neologism that exists as from now on) and psychotropic Electronica, with electrified waves of sound, spacy effects and discordant sequences. At first it does sound discomfortable, yet after a few listens, the whole conceptual basement reveals itself. Sounds grow and fade, melodies disclose then again hide behind mystery. There is a certain minimalism in execution, yet at the same time a specific richness and abundance behind it all. It surely exhales a futuristic identity, like an astral-cataclysmic journey, while weird creatures penetrate your subconsciousness – or something like that.
Once in a while, elements from Noise and Drone join. Noise, not like in HNW of ANW, yet from progressive-experimental point of view; and Drone, not like in Dark Drone or Ambient Drone, yet rather when talking about the few deep-rumbling tones beneath the surface. Also genres like Space Disco, Goa or Zeuhl, yet without the Rock elements or instrumentation, might have been of influence.
It's an unusual release, but give it a try; I am sure there will be some folks around that might appreciate, even adore, this not-that-evident collection of mental-disarranging Electronic Music.
https://sidneywatson.bandcamp.com/releases