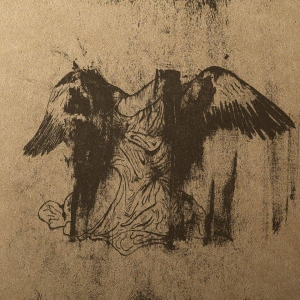 Soul Grip are a new formation from the city of Ghent (Dutch-speaking part of Belgium). They wrote and created some songs that eventually were recorded at the end of December 2014 at the famous Hearse Studio with Lander Cluyse (think Leng Tch'e, Amenra, Wiegedood, Hessian a.o.). The recordings were mastered in March 2015 at Audiosiege with Brad Boatright, known for his mastering duties for acts such as Nux Vomica, Twitching Tongues, Immortal Bird, Wiegedood, Vallenfyre and many others. Avadon consists of seven tracks and lasts for twenty two minutes.
The lyrical part deals with darker subjects based on the Catholic Bible (like the infanticide of King Herod) and myths that have to do with religion, and they come in English with one track done in Dutch (no French, despite some French titles).
The aural part of Avadon is rather to be found within, well, this is a Consouling Sounds release, so this might give you a clue for sure… Avadon mixes elements from fast and fierce Black Metal, Post-Hardcore alike Black Metal, Death / Grind-alike Post-oriented Black Metal, Sludge-injected Black Metal and modernistic, eh, Black Metal… And still, Soul Grip aren't just a Black Metal outfit. Sorry, folks, I'm just teasing, but at the same time I am truly revealing quite a lot as well.
Seriously, actually this band brings a violent and harsh form of blackened Metal with elements from Post-alike stuff (Post-Metal, Post-Black, and Post-Hardcore, you know, the subtly sludgy way), drawing influences from the traditional and old styled tradition, as well as from the 22nd-century oriented current (am I not a visionaire?). Sometimes the whole has a quasi grindthrashing edge of nastiness (cf. a piece like Carnet De Deuil), then again a rather desolate-integer feeling (like on Manifest der Vervoering), yet in general this experience is sort of combining a specific Consouling Sounds-tradition with self-faced elements, though the latter especially coming out from the blackest side of the game…