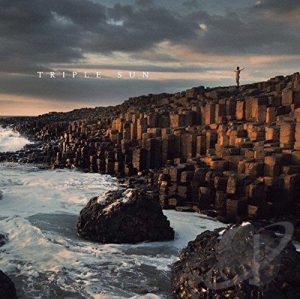 The origins of Triple Sun go back to 2011, when Katia & Marielle Labeque's Minimalist Dreamhouse were conquering the city of London in a couple of nights. Massimo, David and Raphaël joined forces to play as session musicians at London's King's Place with the Labeque sisters, and they decided to go on, or at least to try out something together. This transformed, slowly but surely, into the organic entity called Triple Sun.
The result, audible by means of The City Lies In Ruins (released, quite evidently, by Flemish most open-minded top-quality label Consouling Sounds), shows a fine mixture of the three members' backgrounds. Massimo Pupillo (bass, guitars and vocals) is best known from Zu, but he used to play together with the likes of Stephen O'Malley, Joe Lally, Mike Patton and FM Einheit too, to name but a few. Raphaël Séguinier (drums, Santur or Santoor [a kind of Dulcimer, being 'hammered' with feather-alike sticks] and vocals) is an artist that contributed with some famous orchestras all over the world, or as life / session / guest musician with numerous well-known names. David Chalmin (guitars, electronics, vocals; also recording and mix of this album in both Paris and Rome) is, besides a composer and musician, active as engineer and producer, and he often collaborates with Matt Elliott too (so did Raphaël as well, by the way).
Being heavily influenced by the earlier American Minimalists trend, the trio soon found out the direction they wanted to go with The City Lies In Ruins. Yet the 'minimal' moniker for sure is not the correct one, for Triple Sun are quite the opposite of minimalism in several pieces. They bring their Post-Rock / Alternative stuff with so much intensity, absorbance and out-of-the-box-thinking (!!!) – damn yeah, once again Consouling Sounds sort of discovered this unique approach (who else should?). There is a mingle of post-rocking riffs and melodies, psychedelic structures, sludgy rhythms, alternative Indie-alike excerpts. And then again, the notion 'minimalism' might work when focusing on the essential basics of pieces like There Are Weapons – this kind of tracks being in glaring contrast to the post-modern experiments that sort of overrule the emptiness of presumable inexistence.
That's something unique within this band's approach… and a song like The Gift takes everything to its essence: ambient integrity, post-oriented Hardcore/Metal, grooving Sludge, nihilistic Cinematic Rock and so on; The City Lies In Ruins The City Lies In Ruins comes up with aspects from all these niches – and for once I think it might be a disturbing element rather than a coincidental lucky-shot: I do not feel the 'core', that specific 'heart' that might be distinctive, expellant from the 'average' scene going on. It is nothing more (or less) than my guts, but, despite quite some semi-ingeniously composed constructions, Triple Sun do not succeed to outstand in what way whatever (personal, totally objective vision of undersigned). The City Lies In Ruins has quite some attractive elements, like the Americana-alike riffs in the title track, but I wonder whether the result would break chains… The label has always stand out with their unique releases, but this time I wonder… Being a human entity, what means a subjective spirit, I am quite … Whatever, my opinion does not matter; the score isn't but a personal, and therefor subjective, result – but seen the persuasive character of the label, you might consider the elegance and importance of all other efforts too…