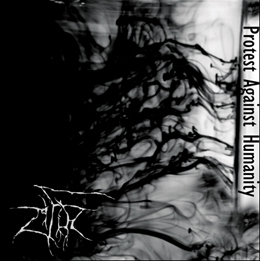 Release Date:
Wednesday, February 26, 2014
Zifir are a Turkish band with two full lengths and a split in their discography. In 2007 Zifir released You Must Come With Us (via Poem), and in 2011 Protest Against Humanity (through Dunkelkunst, a sub-division of Kunsthauch). And in 2012 there was the split with Belgium's top-act Cult Of Erinyes, a side-project of Psalm.
Protest Against Humanity, the 2011-album (I will review this album despite being an older release, because Kunsthauch were so kind to send this material to the Concreteweb headquarters), was recorded and mixed in 2008 and 2009, but the actual release wasn't that easy. The release date was scheduled for Autumn 2009, but there was a delay; yet not for all eternity, since early 2011 satisfied the world with the final release. The album was recorded by Can 'Nursuz' Gürses (d; formerly in Black Omen and Episode 13), and founding members Onur Sülen (vocals, guitars, bass; ex-In Spite) and Onur Önok (vocals, bass and guitars; known for his studio duties for famous Turkish bands like Hecatomb, Affliction and Leviathan).
After the instrumental intro, with acoustic guitars, Protest Against Humanity brings very desolate and desperate Black Metal with both melodic and repetitive rhythm patterns, wretched screams, eerie tremolo riffs and a very, very slow tempo. Despite the mainly slowly self-repeating riffage, there is quite some variation, for most tracks come with nice, though very subtle changes in melody, tempo (also including several blast-edged eruptions) and structure, with inclusion of the addition of samples and other weird intermezzos or excerpts. And it's not only within the compositions that you can find the necessary variety. Also in between the different tracks there are diverse angles, for sometimes it sounds little suicidal and introspective, then again rather angry and malicious. Also the vocal range, including spoken words, whispers and esoteric, trance-like chants, is a true surplus, for they are great and not just another experiment.
The sound is raw and unpolished, slightly under-produced and roughly mixed. But it sort of fits, evidently, to the grim atmosphere of Protest Against Humanity. The fact that the band recruited a 'real' drummer instead of using a drum computer gives the final result a more organic attitude, which one can only appreciate. Lo-fi and old school, yet with an own vision and execution; Zifir's Protest Against Humanity is a cool effort!