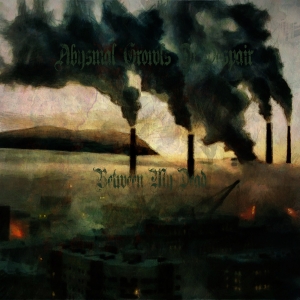 Release Date:
Tuesday, September 1, 2015
The Funeral Doom scene in France is pretty interesting, at least that's what undersigned is thinking about it. One of the (many) projects that I can truly appreciate is a quite productive one, being Abysmal Growls Of Despair, one of the many (digital) projects by Hangsvart. Despite the very young age of this project (and this guy), there are quite some recordings in mean time. This review will deal with the fifth full length in nearly two years of existence (and when it comes to this specific project, there are a couple of EP's too, and some split-contributions), and besides Hangsvart is part of e.g. Ancient Lament too, and he acts solo under monikers like Catacombed, Plagueprayer and Hangvart (mind the difference with and without the 's' for both project and artist name).
Anyway, Between My Dead gets released via Satanath Records and More Hate Productions, just like very late 2014's Dark Days (for the review on that album, I'd like to invite you to check Concreteweb's review section's update of April 29th 2015), this time in co-operation with Black Plague Records. Everything was written, composed, performed and mastered by Hangsvart himself, except for the lay-out / visual art: depressing, 'smoggy' artwork by Andrey T. (the guy behind projects like Poezd Rodina and Montes Insania, both of them on Satanath Records too) and design provided by Satanath Records' label owner Aleksey.
After a droning instrumental introduction, quite industrialized and terrifying, some monumental riffing immediately grabs the listener's attention. A massive wall of guitar sounds, slowly marching drum patterns (cymbals), hypnotic leads and ultra-deep growls get combined into a mostly asphyxiating, heavy form of minimal no-nonsense Funeral Doom. This material is so breath-taking (the suffocative way), so obscure and ominous, so colossally heavy and so extreme in sound and execution, that it leaves the listener, once again, confused, lost, anxious and forlorn… And once again I'd like to come back, like I did in the past, to comparisons with the projects Stijn van Cauter is involved with. This has to do with the rough sound, the deep vocals, the primal execution, the grim atmosphere and the funereal attitude. Even the ambient intermezzos are of a comparable kind. Yet then again, Abysmal Growls Of Despair are for sure an entity on their own, despite the huge amount of comparable aspects, and since the final result, once again, is quite remarkable… Besides, I think there is even a slight form of 'progression' indeed (no, I am not exaggerating), with adding some martial and industrialised ones; The Feast surely expresses that specific occult theme comparable to an act like Urna or, why not, Woods Of Belial or the Swiss Mordor, and it makes undersigned so happy…