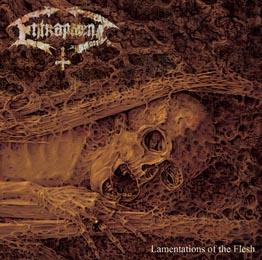 Album Title:
Lamentations Of The Flesh
It is not because I am chauvinistic, but normally we consider the U.S., Sweden and Germany as the most important countries when it comes to Death Metal. I think the Lowlands, i.e. Belgium and (especially) the Netherlands, are at least as influential for the worldwide scene. It was the case in the earliest years, and it has not changed. Brings me easily and logically to this Dutch act, Entrapment, formed by Michiel Jonker (formerly of Absorbed- and Massive Assault-fame, amongst others) in the city of Groningen in 2009.
After a handful of highly appreciated demos, Entrapment released their debut album The Obscurity Within… at the end of 2012, and believe me if I say that I was enormously enthusiastic. Check the review posted on January 8th 2013, if you want to. Last year there was a split with Pyre (the one from Russia), and now the band returns with the sophomore full length studio album (which lasts for forty four minutes, by the way), also via Soulseller Records from Holland.
And as from the very beginning I am truly aroused once again. Entrapment deliver a massive Death-monster that still is heavily rooted in the Old School scene. Lamentations Of The Flesh is a pure definition of essential and basic Death Metal, performed in a mostly professional way. this stuff is heavy and pounding, with a focus on brutal riffing, torturous rhythms and mean grunts, and last but not least with a honorful wink to the late eighties / early nineties scene once again. But, the whole does sounds very nowadays as well, for the production, though raw and rough, is above average when it comes to the sound quality. Entrapment have the scenes from Sweden, Germany and, indeed, the Lowlands joined, and canalised in their own morbid execution, and again they do succeed to do it with conviction and craftsmanship.
If you do appreciate no-nonsense Death Metal with a trans-European approach, then you have no choice but buying or stealing (not my copy, please, for I will do things to you that you won't experience) this album.