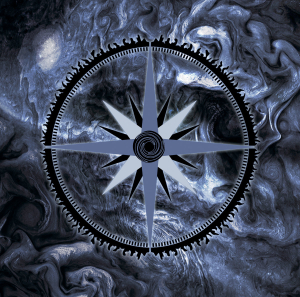 The pretty young label Centipede Abyss for sure is one of the most surprising revelations lately when it comes to the harsher side of sonic complexity and progressed Aural Art. Trespassing conventions of what 'Music' is supposed to be for the grey masses, is like the goal for this label's releases. The aim is not to be the most 'popular' and successful seller on the international market, yet rather to please, to reach, and to compass, a small yet devoted and dedicated audience that dares to dive into modestly unknown and unexplored oceans of uncustomary sonorities.
It might be evident that this goes as well for the untitled (or self-titled, if you want to) mini-album by the new outfit Lux Sine Lumine, a solo-project by Act Of Entropy's Ni (also active, as Yydraah, in some other orchestras related to this UK-based label and partner [in many crimes, I'm sure] of label's finest Pan; cf. Zvylpwkua). The three-tracker lasts for just over twenty-one minutes (each composition clocks around seven minutes) and is enormously limited when it comes to the physical edition: a hand-numbered compact-disc (jewel-case) that will not be reprinted afterwards, and which includes purely mind-satisfying cover-artwork. The latter, offered in shades of darkened blue, represents a compass rose, referring to the (astral) infinities of the dimension of space (and time) and the beautiful visions of lightless phenomenons that exceed man's apprehension and conceptual insight of Space. Therefor the choice for this project's moniker, 'light without light', is as fitting as it goes for the visual approach.
It would be too easy to say that Lux Sine Lumine's sound-explorations are an evidence in this label. Well actually, it is, but one needs to pay attention for some other content- and audio-related reasons too. Of course the experimental, avant-gardist execution fits to this label's roster. I'll come back to this immediately. But what differs from acts like Zvylpwkua or Act Of Entropy is the atmosphere and the total veil that covers, that surrounds, these noises. This stuff might be little less Mathcore / Metal as well as (Free) Jazz oriented; yet then again, dissonance, experimentalism, droning harshness, out-of-the-box-thinking and sonic schizophrenia are common elements for sure…
…which easily brings me to some thoughts on / about this aural triptych, which consists of Heliopause, TrES-2b and AR Scorpii. Gathered around a weird psychotropic definition of 'Doom' and 'Astral', this cosmic experience / experiment sort of combines the most outsider-oriented connections to compulsive rhythms of Psycho-Doom (I was not sure whether I should refer to this acts, but then again, why not: like a frenzy symbiosis of Khanate and Esoteric), delirium-minded (Black) Industro-Ambient (believe me; it does exist as from now on!) and free-styled improvisations from a mostly macabre, yet unique angle.
The 'basic' ingredients are not that bizarre when thinking about the label and the artist involved. These three elegies are comprised of a skull-crushing amount of electric strings, penetrated by sounds from different sources: piano, percussions, acoustics, waves, whatever. The whole amalgam of cacophonic and atonal instrumentation gets canalized into an ultra-discordant and anti-melodious interplay of reverberating, hurtling and subverting disharmonies, packaged as a neuropath soundtrack. That's a monumental thing, for this quite slowed-down approach (no maniacal outbursts like higher-mentioned acts) sort of equalizes that level of mental madness for sure. …and its elegance, evidently… The whole gets drenches into a suffocating fog of discomfort and unease – at the very same time caressing a level of diversity and innovation. The infinity of Cosmic Existence translated through such sound-walls, well, it makes sense.
Funeral Doom, Rhythmic Noise, Death Industrial, Occult Metal, Space Drone, Avantgarde Music and Morbid (Black-Doom-Death) Metal; this isn't but a summary of related styles and genres involved somehow. Then again – and that indeed goes for about all projects involved with Centipede Abyss – one cannot put such open-minded – yet still limited – description around this debut-album by this one-human-act. When these haunted, deep-tuned guitar-chords get injected by rattling percussions, morbid soundscapes, militant percussions or additional eldritch string-molestation (translated in a sense of crafted beauty somehow), one cannot but have this stuff being overwhelming, asphyxiating, transcending (depending on one's actual state-of-mind). But in any case, in some masochistic way, trespassing the limitations of earthly and mortal existence, there is no reason not to get addicted to this soundtrack of post-sensory adoration. …ill-disposed yet sensual ear-satisfaction…
https://centipedeabyss.bandcamp.com/album/lux-sine-lumine
https://www.concreteweb.be/reviews/zvylpwkua