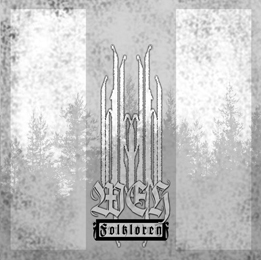 Norwegian project Weh is a mainly acoustic Folk project by Erik Evju, who wanted to create a mixture of darkened feelings and natural emotions. Under the moniker Weh, Erik recorded and released a first demo / EP in 2002, called The Death, and it received very positive reactions in Norway as well as in the rest of the world. 2003 saw the release of a second demo, called All The Sinners Are Sleeping Now, followed in 2004 by demo # 3, The Coffee's Cold In The Morning, The Beer's Warm At Night. In between, Erik was asked by Windir's Hváll (now in Vreid), to cover a Windir-song. Windir-frontman Valfar tragically died earlier that year, and the aim was to release some kind of tribute-album, which would be the last one through Windir as a band. Erik E, as Weh, contributed with the track Likbør, taken from the Windir-album Sóknardalr. Two more Weh-demos were recorded, Hoof & Horn (2005) and North (2006), but then things went silent. Until 2009. Erik E and Soulseller got in touch and this resulted in the idea to release all this material on CD with the title :origins: (see Archives-tab of Concreteweb, update 02/02/2011, for the review). Erik started recording five new songs (these ones in fact were originally titled as :origins:) in July 2010 to include them on the compilation; and finally a rather new song, The Seaward Song, which was recorded in 2009 to appear on a Brazilian online compilation, was chosen to appear on the double-compilation as well. So, :origins: compiles all official Weh-material ever recorded. At the end of 2011 a first 'real' studio album was recorded, called En Natt Kom Doed, which review was posted on September 16th 2012 (Concreteweb Archives). It continued the evolution of Weh, meaning more variation and a fine lyrical progression as well. Musically, Erik started using other instruments, but still of the acoustic kind, and the total approach evolved into a Neo-Folk oriented direction rather than primal Acoustic Folk. Also the vocals got more divers.
It brings me to Folkloren, the sophomore studio full length, which lasts for forty minutes. Folkloren is the next step in the complex history of the project. The basic elements are comparable to all former efforts, but at the same time, this album enters new and untrodden paths. The variation in between the songs is more expanded than before, with each song, even though all of them acoustic, differs from any other. It still breathes a natural expression of Acoustic Folk Music (herewith I'd like to stipulate both 'Nature' and 'organic sound'), yet with a more distinct Neo-Folk alike approach. This time, the vocal variety did expand a lot too, and also the instrumental use did increase (like the addition of piano and semi-acoustic guitars this time). The overall atmosphere is as dark and semi-melancholic as before, but I think, in its totality, when it comes to that atmosphere and spirit, that Folkloren sounds more intense, heavy, dense and oppressive as well this time. No, it's still not a grim or demonic experience, but I'm referring to the emotive bleakness that colours this album is 666 shades of grey, balancing in between heavenly white and purgatorious black. Got it?
FFO: Tenhi, Ordo Rosarius Equilibrio, Current 93, Cohen, Forseti, Sol Invictus, Orplid, Der Blutharsch, :of the wand and the moon:, Blood Axis, and even the likes of Ulver, Windir and Bathory.